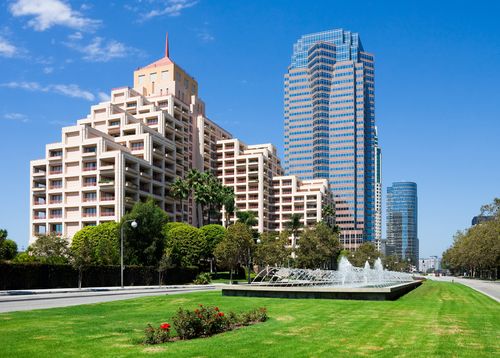 Century City
Century City is a 176-acre neighborhood in Los Angeles' Westside. The neighborhood was developed on the former backlot of film studio 20th Century Fox, and its first building was opened in 1963. There are two private schools, but no public schools in the neighborhood. Important to the economy are a shopping center, business towers, and Fox Studios. There are 5,900+ residents. The population is largely white, older-aged, high-income, with a high attainment in education compared to the rest of the city.
The land of Century City belonged to cowboy actor Tom Mix (1880-1940), who used it as a ranch. It later became a backlot of 20th Century Fox, which still has its headquarters just to the southwest.
In 1956, Spyros Skouras (1893-1971), who served as the President of 20th Century Fox from 1942-62, and his nephew-in-law Edmond Herrscher (died 1983), an attorney sometimes known as "the father of Century City," decided to repurpose the land for real estate development.The following year, in 1957, they commissioned a master-plan development from Welton Becket Associates, which was unveiled at a major press event on the "western" backlot later that year.