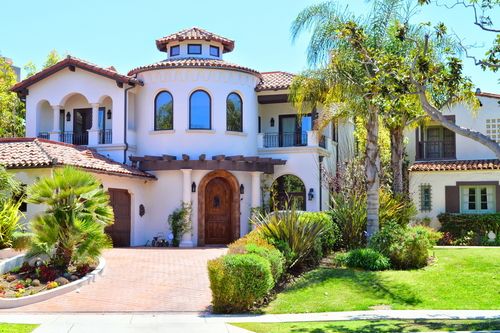 Hancock Park
Hancock Park is a historic and affluent residential neighborhood in the central region of the City of Los Angeles, California. It is built around the grounds of a private golf club. Developed in the 1920s, the neighborhood features architecturally distinctive residences. The neighborhood is low density, with a 70.7% white, highly educated, older-aged population of 10,600+ people. Most of the residents are home owners. There are four private and two public schools in the area. Hancock Park was developed in the 1920s by the Hancock family with profits earned from oil drilling in the former Rancho La Brea.

The area owes its name to developer-philanthropist George Allan Hancock, who subdivided the property in the 1920s.Hancock, born and raised in a home at what is now the La Brea tar pits, inherited 4,400 acres (18 km2), which his father, Major Henry Hancock had acquired from the Rancho La Brea property owned by the family of Jose Jorge Rocha.
Hancock Park activists were also instrumental in the passage of a 1986 Congressional ban on tunneling through the neighborhood. The ban, sponsored by Congressman Henry Waxman, prevented the Red Line Subway from being routed along Wilshire Boulevard through the neighborhood.