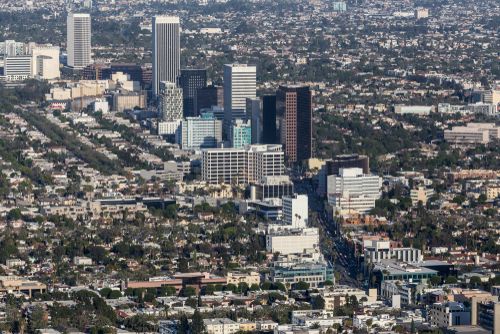 Miracle Mile
The Miracle Mile in Los Angeles, California, is an area in the Mid-Wilshire district and partially in the Mid-City West subregion consisting of a 1.5-mile (2.4 km) stretch of Wilshire Boulevard between Fairfax and Highland Avenues.
In the early 1920s, Wilshire Boulevard west of Western Avenue was an unpaved farm road, extending through dairy farms and bean fields. Developer A. W. Ross saw potential for the area and developed Wilshire as a commercial district to rival downtown Los Angeles.
The Miracle Mile development was initially anchored by the May Company Department Store with its landmark 1939 Streamline Moderne building on the west and the E. Clem Wilson Building on the east, then Los Angeles's tallest commercial building. The Wilson Building had a dirigible mast on top and was home to a number of businesses and professionals relocating from downtown. The success of the new alternative commercial and shopping district negatively affected downtown real estate values and triggered development of the multiple downtowns which characterize contemporary Los Angeles.