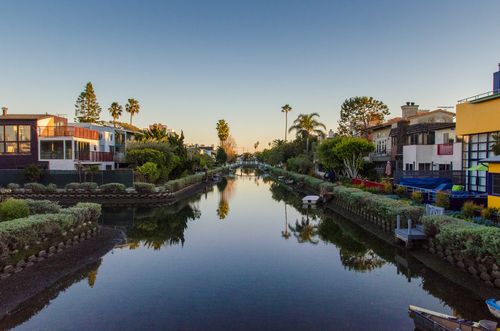 Venice
Venice is a residential, commercial and recreational beachfront neighborhood on the Westside of the city of Los Angeles.
Venice was founded in 1905 as a seaside resort town. It was an independent city until 1926, when it merged with Los Angeles. Today, Venice is known for its canals, beaches, and the circus-like Ocean Front Walk, a two-and-a-half-mile pedestrian-only promenade that features performers, mystics, artists and vendors.

In 1839, a region called La Ballona that included the southern parts of Venice, was granted by the Mexican government to Machados and Talamantes, giving them title to Rancho La Ballona Later this became part of the Port Ballona
Venice, originally called "Venice of America," was founded by tobacco millionaire Abbot Kinney in 1905 as a beach resort town, 14 miles (23 km) west of Los Angeles. He and his partner Francis Ryan had bought two miles (3.24 km) of oceanfront property south of Santa Monica in 1891. They built a resort town on the north end of the property, called Ocean Park, which was soon annexed to Santa Monica. After Ryan died, Kinney and his new partners continued building south of Navy Street.